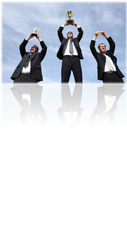 Company Track Record:
Look for a company that is at least ten years old. We have been in business for over 20 years.
Do your due diligence. Ask about the company's credentials. We're willing to show you a long list of awards and accolades.
Make sure the company is financially secure and reputable. Once again, we rise above the crowd. Look for a company that is expanding Internationally. Through the Internet, we can help you reach the world from your home.